to 200,00 PLN/h+VAT(B2B)
DevOps Engineer
Job description
As DevOps Engineer, you will work with our highly skilled development teams, creating state-of-the-art solutions for remote patient monitoring, medication adherence and monitoring, patient support and patient engagement.
Driving on-time and effective delivery of high-quality, enterprise IT application releases and projects
Collaborating and managing release processes across all functions within IT and with business stakeholders
Implementing best practices consistent with DevOps methodology and enterprise IT program management & delivery
Contributing to architecture, tools, standards, and practices for our engineering organization
Researching, suggesting, and implementing new technology solutions
Supporting the development team in continuous integration and delivery environment setup and maintenance
Designing and developing automated cloud deployment solutions
Configuration Management activities to deliver world-class solutions from the development, maintenance, and support of Medical systems
Preparation of system release package
Preparation, management and documentation of the development and deployment environment
About Chabre IT Services
Chabre IT Services is a global professional IT services provider, building long-lasting relationships with Enterprises. We specialize in the delivery of tailor-made solutions,  smart outsourcing, try&hire, and success fee services. We are a smart IT boutique with unique knowledge, which will deliver your ideas into reality.
About our Client:
Our client is an exciting digital health company based in Dublin, Ireland. People on the team are passionate about health and technology and how it can improve the lives of millions of people. They are looking for people who share that passion, who want to turn that passion into practical realities that improve the health and quality of life of patients. This is a 200-person team of clinicians, behavioral scientists, systems design engineers, UX specialists, data scientists and strategy analysts who believe in the transformative power that digital technologies can have as a tool to deliver care healthcare and improve patients' lives.
Qualifications:
Previous experience as DevOps engineer, system administrator, system architect, configuration manager or release manager
Proven practical experience in CI/CD systems: Jenkins / TeamCity / Bamboo
Experience with Artifactory / Nexus
Experience with container management solutions: Kubernetes, Docker, Helm
Experience with cloud environments (Microsoft Azure, AWS)
Experience with configuration management tools: Ansible, Puppet, Chef
Experience with infrastructure as a code approach (Terraform / Terragrunt / Cloudformation)
Experience with Maven / Gradle / GNU Make
Experience with Bash / Python
Experience with Git and Git hooks
BS/MS degree in engineering, computer science or closely related discipline
Excellent interpersonal, written and verbal communication skills (English)
We offer:
Rate to 200,00 PLN/h+VAT(B2B)
Remote work
Subsidy for peripherals in the amount of 500,00zł
Working tool (MacBook Pro or Lenovo Legion 5)
Co-financing of courses related to the position
Benefits: MultiSport, Medicover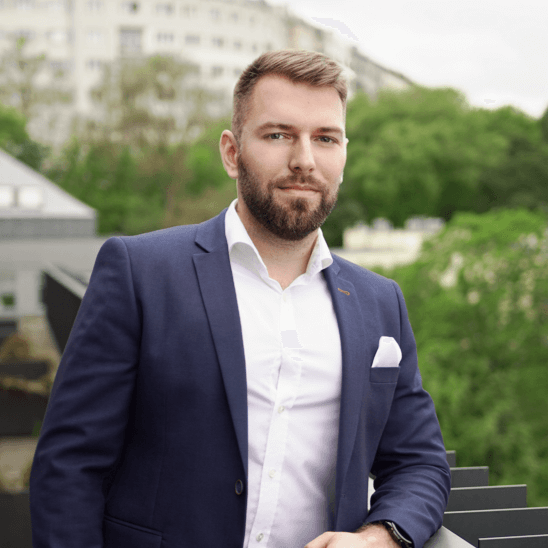 Marek Janiga
My name is Marek and I'm a Recruitment Team Leader at Chabre IT Services. In our company we do our best to create friendly atmosphere and give our consultants wide development perspectives. Join our team in one of our exciting projects. I am convinced that you will not regret this decision. In our company people and their development are the most important value.