Rate up to 190 PLN/h+VAT (B2B)
Enterprise Architect
Job description
Working as an Enterprise Architect, you will:
Architecting and designing innovative end-to-end enterprise-class of systems and connected health solutions involving a broad range of technologies ranging from connected, and wearable personal health devices to mobile applications, cloud-based solutions, and data analytics
Designing efficient and sustainable architectures that can meet the present and future needs of the client
Collaborate with stakeholders, business representatives, and subject matter experts to design and provide Enterprise Architecture
Prepare proposals and cost estimation of designing and implementing IT programs and systems for the enterprise
Collaborate with stakeholders on defining and implementing architecture governance
Cloud architecture solutions – designing redundant and cost-efficient environments based on Platform as a Service and Infrastructure as Service solutions and resources
Understanding the scope of the project and the business idea behind it
Assessing the business impact that certain technical choices have on scalability, performance, availability, and data privacy
Understanding the latest developments in the industry and advising on making versus buy strategies for our solutions
Providing technical leadership to development teams
Providing clear guidance and recommendations on technology options and choices and ensuring technical solutions meet business needs
Providing pre-sales support and helping to define technical solutions for our clients
Assist business managers in developing policies and guidelines regarding the design and implementation of IT within the enterprise
About Chabre IT Services
Chabre IT Services is a global professional IT services provider, building long-lasting relationships with Enterprises. We specialize in the delivery of tailor-made solutions,  smart outsourcing, try&hire, and success fee services. We are a smart IT boutique with unique knowledge, which will deliver your ideas into reality.
About our Client:
Our client is an exciting digital health company based in Dublin, Ireland.
People on the team are passionate about health and technology and how it can improve the lives of millions of people. They are looking for people who share that passion, who want to turn that passion into
practical realities that improve the health and quality of life of patients.
This is a 200-person team of clinicians, behavioral scientists, systems design engineers, UX specialists, data scientists and strategy analysts who believe in the transformative power that digital technologies can have as a tool to deliver care healthcare and improve patients' lives.
Qualifications:
Minimum of 5 years experience in a senior solution architect role involving defining Enterprise Architecture and creating connected solutions, ideally in the healthcare or pharmaceutical industry
Master's degree (or equivalent) in a relevant discipline
Proven experience in Enterprise Architecture and software architecture design
Understanding of regulatory and quality issues associated with the development of medical devices
Excellent analytical skills and problem-solving abilities
Strong technical and business writing skills
Capability to interact with senior stakeholders internally and in client organisations
Ability to work in a multi-site environment with geographically dispersed technical teams
Knowledge of modern architecture approaches, service-based architectures, cloud-based architectures, and distributed systems
We offer:
Rate to 190,00 PLN/h + VAT
Remote work
Subsidy for peripherals in the amount of 500,00zł
Working tool (MacBook Pro or Lenovo Legion 5)
Co-financing of courses related to the position
Benefits: MultiSport, Medicover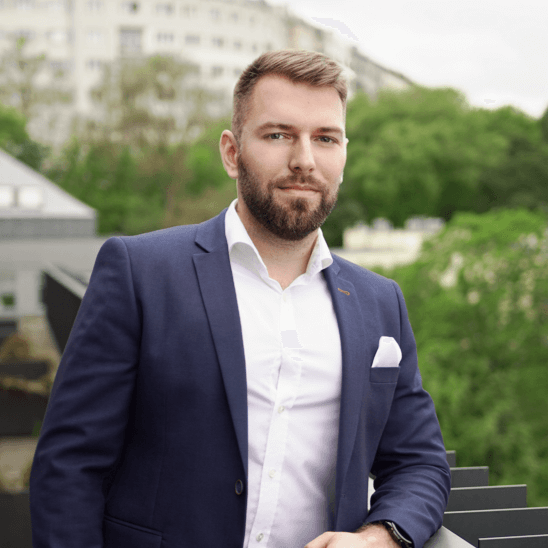 Marek Janiga
My name is Marek and I'm a Recruitment Team Leader at Chabre IT Services. In our company we do our best to create friendly atmosphere and give our consultants wide development perspectives. Join our team in one of our exciting projects. I am convinced that you will not regret this decision. In our company people and their development are the most important value.