Rate up to 150 PLN/h+VAT (B2B)
Fullstack PHP Developer
Job description
Working as a Fullstack PHP Developer, you will:
Development and maintenance of our shopping platform with a focus on outstanding User Experience
Creating new modules for the system in PHP
Participation in the architecture design of the system
Reviewing and giving constructive feedback on others' code
Learning new technologies, keeping abreast of existing technologies and helping to introduce them where appropriate
About Chabre IT Services
Chabre IT Services is a global professional IT services provider, building long-lasting relationships with Enterprises. We specialize in the delivery of tailor-made solutions,  smart outsourcing, try&hire, and success fee services. We are a smart IT boutique with unique knowledge, which will deliver your ideas into reality.
About our Client:
Our client offers services in Poland and abroad that help people of all ages achieve a sense of satisfaction, contentment and high quality of life. Our sports cards provide access to more than 25 types of activities in more than 4,700 sports and recreation facilities located in nearly 720 cities in Poland.
Qualifications:
Knowledge of object-oriented programming
Knowledge of PHP 7 language
Understanding of design patterns
Front-end development of web applications in HTML, CSS, Javascript, Ajax technologies
Knowledge of React.js
Knowledge of Symfony 4/5 framework, its capabilities and ability to use its extensions
Knowledge of webservice, HTTP and OAuth protocol and REST/JSON shortcuts
Knowledge of SQL language and MySQL database engine
You are well skilled in Linux environments and know what CRON is
Familiarity with daily use of GIT and Docker
Understanding of Continuous Integration/Continuous Delivery and distinguishing Deployment from Releases
Knowledge of queuing system (ideally, if you have already worked with RabbitMQ)
Knowledge of English to a minimum communicative degree 
Nice to have: React Native (mobile)
We offer:
Rate to 150,00 PLN/h + VAT
Remote work
Subsidy for peripherals in the amount of 500,00zł
Working tool (MacBook Pro or Lenovo Legion 5)
Co-financing of courses related to the position
Benefits: MultiSport, Medicover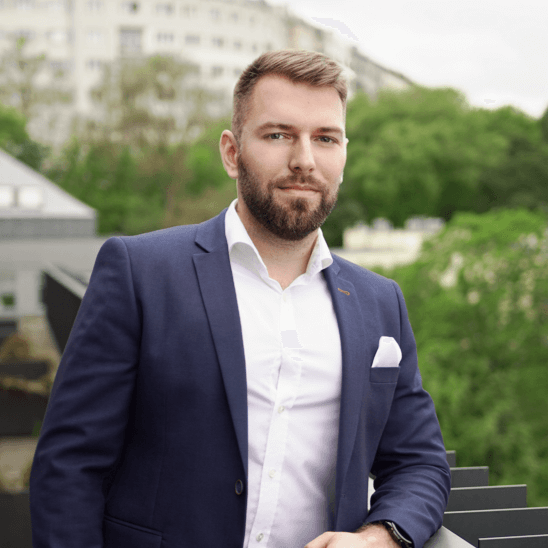 Marek Janiga
My name is Marek and I'm a Recruitment Team Leader at Chabre IT Services. In our company we do our best to create friendly atmosphere and give our consultants wide development perspectives. Join our team in one of our exciting projects. I am convinced that you will not regret this decision. In our company people and their development are the most important value.