130,00 PLN/h+VAT(B2B)
Product Designer
Job description
Working as a Product Designer, you will:
Work as part of a UX/UI team to drive the design of appealing and compelling user experiences across programs
Liaise with users and other stakeholders to understand the user journey, motivations, and vulnerabilities of patients and medical staff using our products
Driving the design from the concept phase through the pixel-perfect outcome
Understanding and actively participating in the User Experience Design process
Request and drive user research/usability tests as needed
Contribute to the design of apps and services that engage users
Participating in meetings with clients and taking part in a design-related discussion
Clearly and persuasively communicate, specify, and describe design concepts, solutions, and needs to senior executives
Drive design from initial concept through final implementation
Illustrate design direction through excellent communication and storytelling
Understand how to advocate for customers and integrate user research into the product development process
About Chabre IT Services
Chabre IT Services is a global professional IT services provider, building long-lasting relationships with Enterprises. We specialize in the delivery of tailor-made solutions,  smart outsourcing, try&hire, and success fee services. We are a smart IT boutique with unique knowledge, which will deliver your ideas into reality.
About our Client:
Our client is an exciting digital health company headquartered in Dublin, Ireland. They are passionate about health and technology and how they can improve the lives of millions of people. They are looking for people who share this passion and who want to turn this passion into practical realities that improve patients' health and quality of life.
Qualifications:
University Degree in a related field
4+ years of experience as a Product designer, UX/UI designer, Interaction designer, or similar role
A solid visual and technical portfolio
Ability to design web applications, mobile apps, custom iconography, and illustrations
Experience in participating and delivering full life cycle design projects
Excellent communication, presentation, interpersonal and analytical skills, including the ability to communicate complex, interactive design concepts clearly and persuasively across different audiences
Excellent verbal and written communication skills in English and ability to work in both international and multifunctional teams
Ability to design using Figma with knowledge of how to take leverage of Photoshop and Illustrator
Experience in design for a variety of form factors, including Web, iOS, Android, Tablet, and desktop
Familiarity with the technical considerations needed when designing for the web and mobile devices
Demonstrating an analytical mind & problem-solving attitude
Ability to follow various project-based processes
We offer:
Rate to 130,00 PLN/h+VAT(B2B)
Working 100% remotely, hybrid, or onsite (Wrocław)
International projects
Unique opportunity to work in the medical market
Contact with the latest technologies
An excellent learning environment with prospects for career advancement
Opportunity to work with other talented professionals
Subsidy for peripherals in the amount of 500,00zł
Working tool (MacBook Pro or Lenovo Legion 5)
Co-financing of courses related to the position
Benefits: MultiSport, Medicover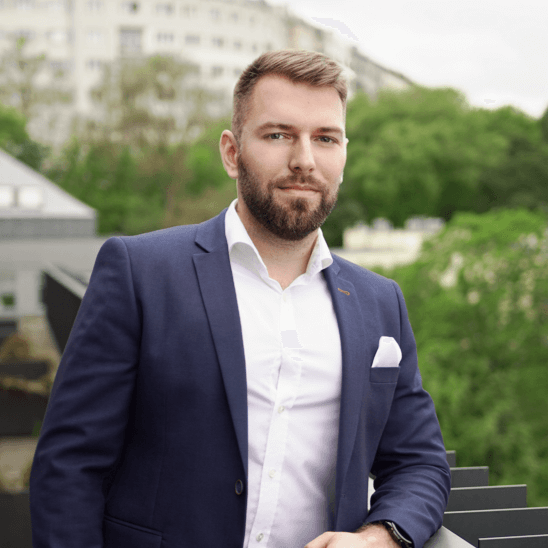 Marek Janiga
My name is Marek and I'm a Recruitment Team Leader at Chabre IT Services. In our company we do our best to create friendly atmosphere and give our consultants wide development perspectives. Join our team in one of our exciting projects. I am convinced that you will not regret this decision. In our company people and their development are the most important value.