Rate up to 170 PLN/h+VAT (B2B)
QA ENGINEER/SDET
Job description
Working as a QA Automat Engineer/SDET, you will:
You will be working on an application where the goal is to give the freedom to customers to run their business

You will be working in Agile framework, in an international team of experienced engineers and QA/SDETs

SDET works with engineers to write automated tests in the team, all engineers are expected to care about testing efficacy and automation

You will be working in a testing guild, all SDETs are in this guild and work together on cross team testing concerns like introducing new technologies, best practices, and improving levels of automation and shifting things left - they also form a group that will intervene and help when especially complex testing scenarios occur such as due to the introduction of new complex integrations, platform changes etc

The job of SDETs is 

not

 to mark homework or clean up messes made by other engineers, it's to lead and enable and for the engineers to collectively work to achieve testing excellence
About Chabre IT Services
Chabre IT Services is a global professional IT services provider, building long-lasting relationships with Enterprises. We specialize in the delivery of tailor-made solutions,  smart outsourcing, try&hire, and success fee services. We are a smart IT boutique with unique knowledge, which will deliver your ideas into reality.
About our Client:
Our client is a global technology and management consultancy specializing in driving digital transformation in the financial services industry. It operates at the intersection of business and technology by combining innovative thinking with unrivalled industry knowledge to deliver end-to-end data-driven solutions and fast-track digital initiatives for banking and payments, capital markets, wealth and asset management, insurance, and the energy sector.
Qualifications:
Experience working as a QA Automation Engineer/SDET
Excellent programming skills in a modern programming language (we predominantly work with Java and JavaScript/TypeScript)
Hands-on experience with common back-end and front-end test automation frameworks, and integrating these into the continuous deployment pipeline
Knowledge of software performance and automated security testing techniques and tooling
Experience delivering and testing distributed microservices as part of an agile team
A strong understanding of Behavior-Driven Development (BDD)
Awareness of cloud infrastructure and configuration
Excellent English skills
We offer:
Rate to 170,00 PLN/h + VAT
Remote work
Subsidy for peripherals in the amount of 500,00zł
Working tool (MacBook Pro or Lenovo Legion 5)
Co-financing of courses related to the position
Benefits: MultiSport, Medicover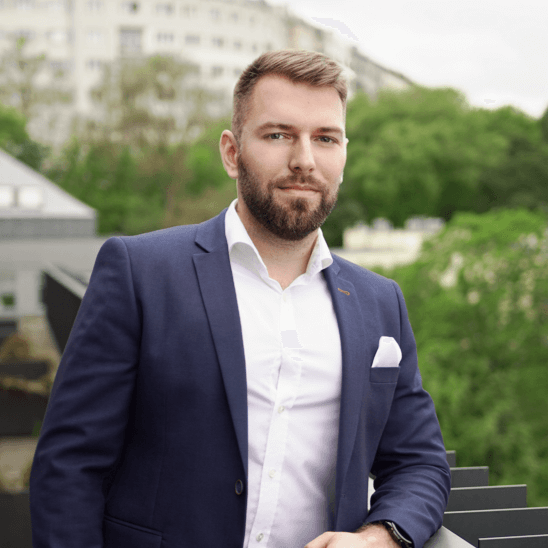 Marek Janiga
My name is Marek and I'm a Recruitment Team Leader at Chabre IT Services. In our company we do our best to create friendly atmosphere and give our consultants wide development perspectives. Join our team in one of our exciting projects. I am convinced that you will not regret this decision. In our company people and their development are the most important value.