180,00 PLN/h + VAT
Senior Full-Stack Developer
Job description
Full Stack Developers are responsible for designing and developing websites and platforms. They work with design teams to ensure that user interactions on web pages are intuitive and engaging. They also provide back-end functionality that can run smoothly from any device or browser type commonly used today.
About Chabre IT Services
Chabre IT Services is a global professional IT services provider, building long-lasting relationships with Enterprises. We specialize in the delivery of tailor-made solutions,  smart outsourcing, try&hire, and success fee services. We are a smart IT boutique with unique knowledge, which will deliver your ideas into reality.
About our Client:
Our client is a leading supplier for consulting, system integration and digital services. It has specialized in the development and implementation of solutions based on modern communication networks and digital media. It supports private, public and hybrid cloud. As the only Oracle MSP in Germany and Italy, they are a technology company that not only understands the needs of our customers but also provides comprehensive technical and operational expertise. Their work is ITIL based, this means we offer our customers robust operation and established process interfaces.
Qualifications:
• Experience with Java, SpringBoot, React (React Native is a plus)
• Knowledge of  Oracle database, Elastic Stack/Mongo
• Experience of Jenkins & GitHub
• Experience with Docker & Kubernetes
• Experience with Azure Cloud
• Full Stack Senior SW Engineer using technology stack as defined above
• Having a good knowledge of Microservice oriented architecture
• Experience developing cloud-native applications
• Fluent in English (both written and spoken)
• Experience with React Native is a plus 
We offer:
Rate to 180,00 PLN/h + VAT
Remote work
Subsidy for peripherals in the amount of 500,00zł
Working tool (MacBook Pro or Lenovo Legion 5)
Co-financing of courses related to the position
Benefits: MultiSport, Medicover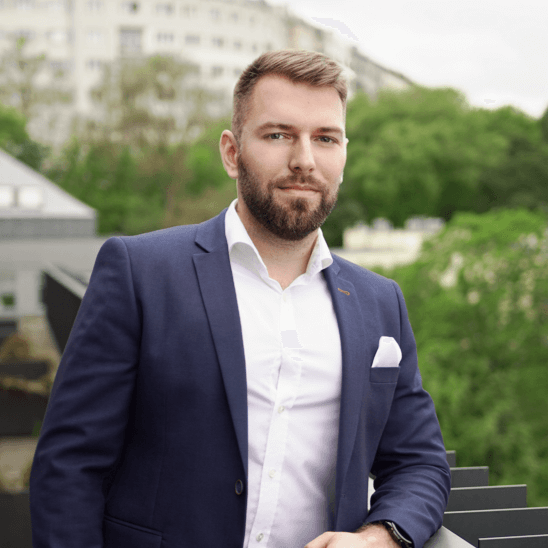 Marek Janiga
My name is Marek and I'm a Recruitment Team Leader at Chabre IT Services. In our company we do our best to create friendly atmosphere and give our consultants wide development perspectives. Join our team in one of our exciting projects. I am convinced that you will not regret this decision. In our company people and their development are the most important value.